Perth real estate continues to show positive signs for 2021.
According to Corelogic, who produce reports using key property data in Australia, some areas of Perth have increased in value by nearly 11% in the past 12 months.
This is off the back of WA being rated as the best economy in the world by S&P.
Where Google comes in
One way to predict demand – across any industry – is by looking at key interest metrics. That interest can often be judged by how many times that topic or phrase is searched for in Google.
Google then uses that data to produce reports at Google trends which are publicly available.
Google trends data shows you how many times people are searching for either either a phrase or a topic.
When people search for a phrase or topic more, it means interest increases, which typically means demand for that product has either increased or will increase.
In the case of real estate searches, it may indicate people are looking to buy, which could mean demand will increase following a search increase as those potential buyers make offers in the market.
'Perth Real Estate' Searches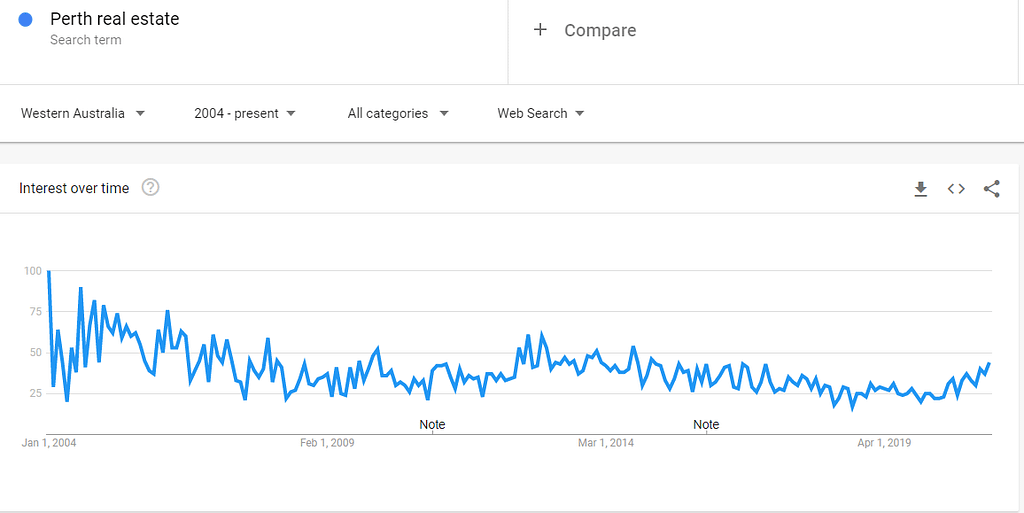 Above is a graph displaying interest in the phrase 'Perth Real Estate' in Western Australia since 2004, when data begun recording.
Each data point on the graph represents one month of searches.
Interest is rated out of 100, with 100 being the peak of interest in 'Perth Real Estate' as a search term, which occurred in January 2004.
March 2021 rated as 44. This was the highest since January 2015, six years earlier prior to economic downturn, which rated as 46.
44 for March 2021 doubled the pandemic dip, when in March 2020 and April 2020 interest was rated at 22.
44 for March 2021 was also a massive increase since September 2018 when interest was rated at just 17.
Signs are looking strong for WA.