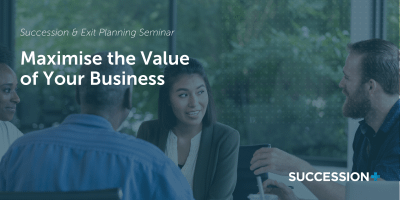 $0.00
Find out how to maximise the value of your business and achieve a successful exit. We are presenting this morning seminar with our partners Succession Plus.
Is your business at its full potential and ready for exit?
Often in starting a business, we leave out planning an exit. You may ask yourself, "Why do I need to plan an exit when I have just started my business? "
The simplest answer is, significant value is lost due to an absence of or inadequate exit planning. Roughly 30% of businesses will be transferred to family members, 18% will be sold to its employees, and unfortunately, many will simply be closed. And so it's important that you design an exit strategy as soon as you start your business. There's no such thing as planning too early.
Don't let liquidation be an option for you!
Join us on Thursday, 25 March 2021 and learn ways to increase the value of your business and successfully extract more wealth when you exit.
See you there!
Starts at: 07:30 a.m.
Ends at: 09:00 a.m.
Location: 3/24 Muriel Avenue, Innaloo WA 6018